The Junior Recorder Society East Bay Chapter
The East Bay Chapter of the Junior Recorder Society was founded in 1997 to provide a venue for children to have access to music by playing the recorder, beyond their weekly recorder lessons. Co-founders Louise Carslake and Hanneke van Proosdij grew up in England and The Netherlands where, as children, they had the opportunity to play the recorder in an ensemble and discover the joys and satisfaction of creating beautiful music with and for their friends. Their goal is to offer the same opportunities to young recorder players in the East Bay. Besides playing the wide and diverse repertoire for recorder ensemble, we explore music through improvisation and composition, listening and movement games. Members of the Junior Recorder Society are able to borrow the larger sizes of instruments for use in the ensembles. The program is aimed at children from third through tenth grade and they are placed according to age and ability in different ensembles. Most children stay five years in our program, some even as much as ten years.
Success in music, success in life…it's no coincidence. The qualities involved with studying music: of persistence, coordination and commitment allow children to mature with healthy personality qualities that will stay with them throughout their life. Research studies are showing more and more that music study also enhances their grades; it enhances higher brain functions required for reading, mathematics, chess, science and engineering. "Music training is far superior to computer instruction in dramatically enhancing children's abstract reasoning skills necessary for learning math and science. Learning music at an early age causes long-term enhancement of spatial-temporal reasoning." (Source: Frances Rauscher, Ph.D., Gordon Shaw, Ph.D., University of California, Irvine, 1997).
The meetings are run by three teachers, Annette Bauer, Louise Carslake and Hanneke van Proosdij, and we also invite other teachers on a rotational basis. We meet in Albany, and occasionally in Oakland. Our program serves children in Alameda and Contra Costa counties. The children have performed in places like the Tilden Nature Center (Berkeley), Cody's (Berkeley), Borders (Emeryville), St. Albans (Albany), Zion Lutheran church (Oakland) and the Berkeley Early Music Festival. In 2007 the children were invited to perform at the American Orff-Schulwerk conference in San Jose.
"What I really liked about JRS was the focus on playing the recorder with other people." (Comment from a former member)
"Talking about the JRS, it's hard to know where to start --- perhaps by saying that I have nothing but fond memories of it. I suspect it's been more beneficial to us alumni than we know, especially to those of us going into music of one sort or another. The ensemble skills I developed during my time with the JRS have helped me again and again. Ensemble skills are largely intuitive, and you learn them without realizing it." (Comment from a former member)
"What we appreciate about JRS is that the kids get a good amount of ensemble experiences at an early learning stage which is not always the case. In addition, the introduction to the recorder's unique ranges in different voices made our son open his ears." (Comment from a parent)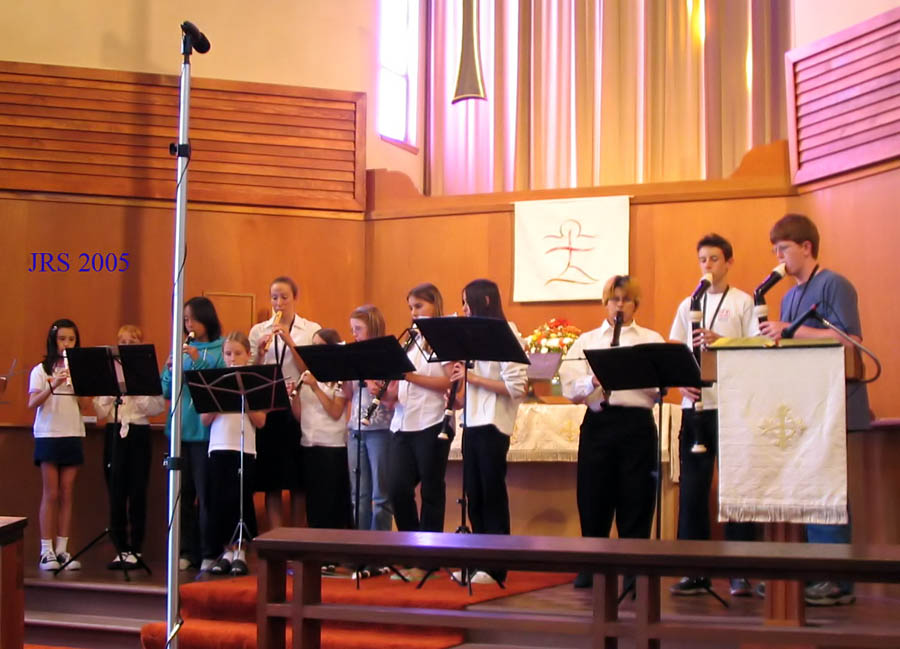 Junior Recorder Society East Bay Chapter 2013-2014 meetings:
Sunday, September 29, 2013
Sunday October 13, 2013
Sunday November 10, 2013
Sunday December 1, 2013
Sunday, January 12, 2014
Sunday, February 9, 2014
Sunday, March 2, 2014
Sunday April 6, 2014
Sunday, May 4, 2014
Meetings will be held 4 p.m.­6 p.m.
All meetings are held at:
Hillside Swedenborgian Community Church
1422 Navellier Street, El Cerrito, CA
For more information
Please contact Louise Carslake
510-530-3202 email:jdlac@got.net